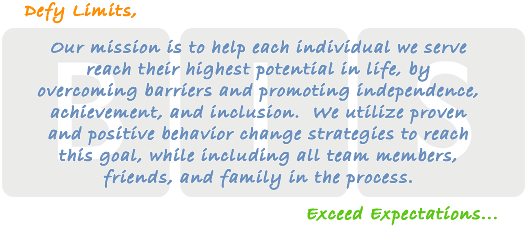 Behavior Intervention Services provides a variety of services to individuals of all ages with developmental disabilities that reside in Missouri and Illinois. Our agency, founded in 2004, has grown to serve hundreds of individuals in the St. Louis and surrounding areas. Please visit our Services section for a complete list of services that we provide. At Behavior Intervention Services our clients receive therapies through a combination of the most renowned autism education principles and the most up-to-date clinical methodologies.
Many new approaches are developed from previous teaching strategies and marketed to families in search of assistance for their loved ones. They are proven to work on a handful of individuals with autism or developmental disabilities; therefore, many families implement these strategies with their loved one, only to be disappointed. Through experience with many different principles of learning, it has been demonstrated that the best approach is grounded in scientifically proven methodologies, such as Applied Behavior Analysis.
BIS assists individuals in home and school settings, in residential facilities, and in the community. We pride ourselves on keeping our small agency mentality while providing the services and amenities on par with those of much larger providers.